What do you feel looking at two gorgeous young girls hugging, kissing or making out on the couch? Except for the desire to join them, I mean ;) Did you ever wonder how such lovely rosebuds become lesbians? Are you sure that all of those cute teen lesbians around have decided to try pink love on their own will? The truth may be surprising, even shocking, but you've got to see this! Become a witness of the most exciting, stunning and amazing scenes of lesbian debauch just at SheMadeUsLesbians.com featuring extremely perverted and incredibly skillful mature lesbians teaching shy innocent girls to enjoy pure female passion! Dive into the ocean of sweet sensations bringing these gorgeous young honeys to the peak of ecstasy as they make each other tremble with desire and shudder in pleasure led to their first orgasms by shameless mature sluts!



THAT'S ABOUT HOW A LOVING WOMAN CAN TURN TWO TEEN GIRLS INTO LESBIANS!

Polina helps turn her two friends into horny lesbians
Polina is a beautiful young lesbian babe who has long wanted to turn her two best (sexy) friends onto the exciting world of pussy eating and licking. It was not easy, since these two stunning ladies live normal lives with their boyfriends and everything. However, it seemed to her that the idea did spark some interest and even curiosity in the minds of her friends, since they began asking questions about her past sexual experiences with other women. Polina told them that her words would never be enough to describe what it felt like to be with another woman, and that the only way was for them to try it for themselves. A few weeks later, they both accepted... and it was on! They got together one summer afternoon at her apartment, went to her bedroom and began to passionately make out. Although Polina had been with several other girls before, she had never had a lesbian threesome in her life. It was an amazing experience for her and an incredible one for her friends. And a deliciously erotic one for all of us! These three girls really let it go in this scene, with plenty of kissing, tit-grabbing and even dildo action. Hot, freaky and oh-so-sensual! This is one to remember!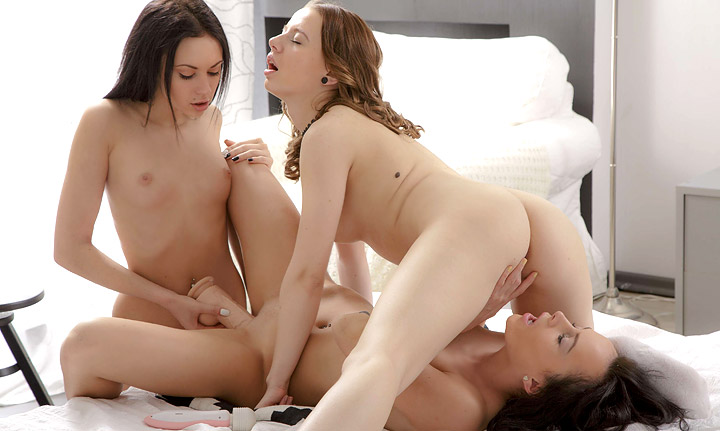 We looked up to her but she took advantage and she made us lesbians
This lady was successful and admired. We looked up to her and got the chance to talk to her and be her understudies. But she took advantage of us. She made us lesbians. She showed us how lesbians had the most fun and how awesome it was. We found ourselves pros at the lesbian game. We would kiss and lick each other all over our bodies. We even fingered and face sat on each other. It was hot and we became addicted. She taped all of it secretly for her own enjoyment without us knowing anything about it.


Nicole and her two friends end up having some hot lesbian action
Nicole and her friends are looking at porn magazine when Nicole gets horny. The clothes come off and they start touching each other. Then they start kissing each other. At this point they're all really horny and start going down on each other and fingering each other. They spread those pussy lips wide. They find different combinations to pleasure each other as one goes down on one while the other gets fingered. They make sure everyone gets off before hugging and calling it a day. Nicole's friends realize she made them lesbians.


She made us lesbians by tempting us with lots of money
This mistress knew the best way to teenage girls' hearts. She promised us lots of money and fame. She gave us more money than we had seen up until then in our lives. The money blinded us and she made us lesbians in the process. She would make us have lesbian sex and she would tape it. She would also issue instructions like how we started with sensual kisses, licked each other's tits, worked our way down to the pussies before we fingered each other and before we were done, we used dildos and other sex toys to satisfy each other.


She is so good she made us lesbians without us knowing
We looked up to her. She had lots of money, was famous and well liked. We wanted it too. She taught us a few things especially how to have fun and before we knew it, she made us lesbians. She would make us kiss each other passionately, then make us such each other's tits before we got horny and licked each other's pussies hungrily. Then we would finger fuck each other and ride each other's pussies to a great orgasm as she watched and enjoyed or masturbated.


We looked up to her and she made us lesbians
We looked up to this lady. She was cool, sophisticated and she was loaded. We wanted to be like her. We were young, ambitious and beautiful. When we approached her, she told us she wanted to put us to a test. She put us in a room and told us to have hot and steamy sex. We were surprised but did it. We kissed each other's titties, licked each other's clits and fingered each other. We made it as hot and steamy as we knew and it turned her on big time. She made us lesbians like herself and made us her understudies.


We looked up to her and she made us lesbians
There is this girl we liked and looked up to. We wanted to be like her. But before we knew it, she made us lesbians. She made it look so cool and told us how to make it hot. We started cuddling and made out. She had given us a dildo and we sucked it hard. Then we licked each other's pussies before sliding the dildo slowly into our eager and insatiable pussies. We had a 69 before we went back to the dildo and drilled our pussies with it until we climaxed explosively.


Naughty mature teacher shows two blonde teens lesbian pleasures
Our teacher knew we were close. She also knew we were adventurous and curious. She told us that we would be even closer if we did certain things together and shared the secrets. She invited us to her place and instructed us to kiss. We kissed and it was awkward at first but it got progressively interesting. We undressed and kissed with passion. She undressed and started masturbating. It was a bit surreal but fun all the same. We licked each other's pussy and masturbated. And that is how she made us lesbians.


Two teen girls discover the taste of lesbian sex with their old lesbian teacher
Two naughty girls are at their sorority house having a good time and all of a sudden, an older lady comes in to talk to them about what the generations of that house did in the olden days. Soon enough, she's convincing them to be lesbians and does everything in her power to ensure they're performing oral sex on one another just the way two sweet, young and budding teens should. They had always wondered what lesbian sex would be like before that day, and you can bet your bottom dollar they spent the rest of their years in college having hot lesbian sex with one another.


Two students fuck each other with fingers and toys watched by their old lesbian teacher
These beautiful teen girls are brought into class by their teacher for some extra-curricular activities - it turns out to be an offer for their young, nubile bodies to be taught a thing or two about lesbian sex. They start to kiss as instructed and eventually end up stripping out of their college uniforms and end up munching on one another's teen pussies. Barely legal lesbian action featuring gorgeous students is always such a joy to watch - especially when they start to share their hot MILF teacher's pussy as well!

| | | |
| --- | --- | --- |
| | Rating: | 8.52 |

| | | |
| --- | --- | --- |
| | Rating: | 7.86 |

| | | |
| --- | --- | --- |
| | Rating: | 7.47 |

| | | |
| --- | --- | --- |
| | Rating: | 7.60 |

| | | |
| --- | --- | --- |
| | Rating: | 8.38 |

| | | |
| --- | --- | --- |
| | Rating: | 7.43 |

| | | |
| --- | --- | --- |
| | Rating: | 7.76 |

| | | |
| --- | --- | --- |
| | Rating: | 7.90 |

| | | |
| --- | --- | --- |
| | Rating: | 8.72 |

| | | |
| --- | --- | --- |
| | Rating: | 7.23 |

| | | |
| --- | --- | --- |
| | Rating: | 8.39 |

| | | |
| --- | --- | --- |
| | Rating: | 8.03 |

| | | |
| --- | --- | --- |
| | Rating: | 7.88 |

| | | |
| --- | --- | --- |
| | Rating: | |

| | | |
| --- | --- | --- |
| | Rating: | 7.82 |

| | | |
| --- | --- | --- |
| | Rating: | 7.47 |

| | | |
| --- | --- | --- |
| | Rating: | 7.60 |

| | | |
| --- | --- | --- |
| | Rating: | 7.64 |

| | | |
| --- | --- | --- |
| | Rating: | 7.40 |

| | | |
| --- | --- | --- |
| | Rating: | 8.29 |